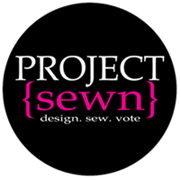 If you've been following the
Project Sewn blog
, you will have seen that I'm a contestant for this season!!! (exclamation marks used ironically)  Honestly, I'm finding it a bit hard to capture my feelings on the subject, mostly because I'm pretty sure I'm the only one who cares, but also because they're all over the place.  Bullet points are always nice for readers and fumbling writers, so let's do that.
- I have no idea why I said yes.  A momentary lapse of judgement, an Adrianna-of-the-past trying to encourage and challenge Adrianna-of-the-future kind of thing.  Adrianna-of-the-present is not super happy with Adrianna-of-the-past right this second.
- Despite my misgivings, I'm still really excited and happy I said yes.  (I never promised this bullet list would make any sense.)  Even though it is a competition, it's also just for fun, and I'm having fun!
- I want to push myself to do something different and fun and new, but I also refuse to spend any amount of time making something that will never be worn.
- To that end, I'm sewing mainly with myself and my lifestyle in mind, and not to win a competition, because…
- ….let's face it, I can't beat these ladies, AND even if I won the entire thing, the prize package would not even be a drop in the bucket of money and time and effort I've spent creating these outfits, so….
- ….the motivation has to come from self-satisfaction and creating garments that I actually want in my wardrobe, and I think I've nailed that so far.
- Also, if you've seen the rest of my competitors, you'll be in agreement with me that losing to any and all of them would be nothing but a privilege.  I have no idea why the Simple Simon ladies even thought of my name in connection with these sewists, but I'm not gonna argue!  The best part about this season is that the contestants get to vote for one another, so I still get to pick my favorite each week!  I imagine this is going to be the hardest part of the competition since I have some blog friends from the way way beginning competing, but also some who are relatively new to me but have already sucked me in with their amazing style and talent.
The one surprising thing that has happened so far (besides me finishing the first garment well before the night it's due) is that I'm not burnt out on selfish sewing at all.  In fact, the more I sew, the more ideas I have and garments I want to sew.  I already have a back log of "after PS is over" projects for me!  And it's also rebooted my desire to sew for my kids more, so that's an added bonus.
Anyway, those are my disconnected ramblings about Project Sewn, so if you've made it this far, I thank you and I hope you'll check back in next week for my first look!  Now I guess I should go model/photograph it (gulp.  the very very worst part of selfish sewing!)