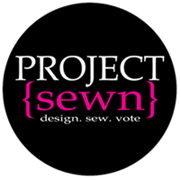 This week's look probably came about in the most random way of all my outfits, but I really enjoyed the process that brought me to this end result.  The tank I had figured out from day one.  I knew I wanted a darted jersey front, silky racerback tank with a heavy metal exposed zipper and a shirt hem.  And that's exactly what I made.  However it was the single hardest thing I sewed for Project Sewn.  This is actually my third attempt, a literal hail mary with the very last bits of my fabric.  The knit and polyester I chose were the most obstinate, ornery fabrics I could've used.  Thankfully it finally worked out because the fabric was purchased online and I didn't have time to order more.  In fact, I'd say the biggest victory in this top was buying 2 different fabrics online that matched so well!
I didn't have the jacket nailed down as quickly, but I knew I wanted a blazer.  I had seen a few knit blazers that I really liked recently, so I bought white sweatshirt knit, hoping it would match whatever print I ended up using (I didn't have the elephant fabric at this point).  Originally I made a long blazer using this Burda pattern, but the combination of white, a puffy fabric, and the length just made me feel like the abominable snowman.  So I took the bodice in by about 4 inches and angled the front so it would be asymmetrical for a little visual interest.  I cut the sleeves at 3/4 length and added a cuff.  Then I chopped the whole thing off at the waist and added a half circle peplum and a gray velvet ribbon accent.  The end result was nothing like my original sketch, but it ended up being one of my favorite pieces from all 4 weeks.
In the middle of Project Sewn crunch time, I unexpectedly had the opportunity to fly to Singapore for 3 days with some girlfriends.  I couldn't say no just because I should have been sewing, could I?  And it was a good thing I went, because I forced them to stop at a fabric store (but I limited myself to ONE, so YOU'RE WELCOME LADIES!) and I found this spectacular elephant print canvas fabric.  I had been planning on making something a little more elaborate for the bottom half of my body this week, but those elephants were just too perfect (and too appropriate for Thailand), so I made a simple straight mini skirt to let them shine.
This skirt was SO rewarding to make.  The heavy fabric made it an easy sew, and it was easy to fit by adjusting the back darts.  I lined it with green polyester and then blindstitched the hem and ladder stitched the lining to the hem by hand.  The zipper was a little bit of a dilemma for me.  I'd been wanting a straight mini with a chunky exposed zip for awhile, but I had already made an exposed zip on the top.  But I figured that these pictures will be up for a few days, and I'll own this skirt for much much longer, so I may as well make it the way I want.  You won't see a picture of the back of this outfit with both zips showing though, don't worry!
My last two photoshoots were pretty fun and exciting, what with the hitchhiking and downpour and vespa nearly-crashing.  The only interesting thing I have to show you this week is my cute little interloper.  She looks clueless and innocent, but trust me, she mischievously positioned her little self exactly in that spot to crash my picture.  We'll let it go just this once.
It's time to vote, so head over to Project Sewn now and pick your favorite!