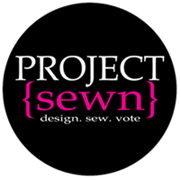 I am so giddy to finally get to share these pictures with you!  This week's Project Sewn theme is Sewing by the Era and without even thinking about it for half a second, I chose whatever era Audrey Hepburn is.  50s, 60s, take your pick.  She's my favorite, so it wasn't a hard choice.  I just love timeless, classic clothing that never goes out of style.
I was telling my friend that I wanted to recreate Audrey's classic bike picture and my friend was like, hey, do you wanna use my vespa?  To which I was like, um, YES PLEASE!!!  I've been looking for a good excuse to ride this thing since I met her!  So she bravely set me loose on the world on her scooter.  At first it wasn't very different from a five year old learning to ride a bike.  And I spent a good bit of time chugging around the streets like it was a Hoveround®.
But then I figured out how to make that sucker move and I was off on my own Roman Holiday! (except in Bangkok)
I have GOT to get me one of these.
What's that, you're here for the clothes and not my scooter riding?  Well okay then.  First up is that trench.  OH that trench!  I have to say, it was time consuming.  But not as time consuming as I expected, and certainly not too difficult.  It was just a whole bunch of steps (71) and a whole bunch of pattern pieces (25, most of which are duplicated in either lining or interfacing).  But I gave myself a solid two weeks to get it done and took my time, didn't cut corners, and ended up with a pretty darn good coat!
I had to jump on the neon + neutral bandwagon before it passed me by completely, hence all the neon pink in these pictures.  I apologize if it's a bit much for you, but this was the only week that you could err on the side of costume-y, so I had fun!  I promise I won't wear those shoes with that shirt or that head scarf ever in real life.
You can't do Audrey without a Breton top and cigarette pants.  Unfortunately, one cannot simply buy Breton-like fabric.  I tried.  If you want striped fabric where the stripes start halfway down, you have to make it yourself.  So I got out a roll of duct tape and some fabric paint and went to town.  Me and crafting don't mix, so I was scared the entire time that I would end up with one of those tragic "nailed it" projects that you see on Pinterest.  It wouldn't be the first time.  But amazingly the stripes turned out perfectly and the paint doesn't even look like paint unless you get really close.  Which you shouldn't.  Because everyone has a personal space bubble, and this is mine.
The shirt is just a simple 3/4 length boat neck that I drafted using a shirt I own for measurements.  The fabric is a fairly heavyweight rib knit, which lends itself nicely to the structure these shirts need.
My favorite part of the shirt is the fun navy binding detail at the shoulders.
I didn't want to do a true cigarette pant because I'm mostly a jeans girl, so I made skinny jeans with subtle navy topstitching to keep them looking classier than your everyday jeans.  I started with the trousers pattern from this book, and ended up completely redrafting the legs (as you do when you're making skinny jeans from trousers, der).  I also had to create pockets in the front, as this pattern only comes with patch pockets.  However I serged off the pocket bags to make the front of the jeans lie smoothly.  I did keep the original waistband, but probably should've taken it in a little bit more because of the stretchiness of the denim.  In other words, I could've made my job easier by just tracing a pair of skinny jeans.  But the actual sewing of the jeans was incredibly easy, and I'd say it's probably one of the easiest things I made for Project Sewn!  If you've never made jeans, you should give it a shot!  I was channeling my inner Sabra the whole time, as she is the Queen of the Jean.  She has lots of helpful hints to get you started!
I couldn't leave the jeans out of the neon pink fun, so I slipped a little color into the zip fly.
And I'm off!  And you should be too!  Go to Project Sewn now to see all the eras and vote for your favorite!