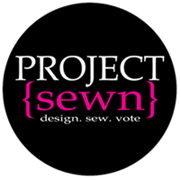 You guys.  This was the hardest PS week for me by far!  It is so hard to nail down just one outfit to be your signature style.  And for me it was an extra hard decision because my signature style isn't fancy or show stopping or competition-worthy at all.  I had always slated myself to go home after 2 weeks (the order of the themes changed shortly before the competition began) so I didn't give this week a ton of thought initially.  And then I realized that if by some chance I did go all the way to week 4, my signature style would not be at all competitive.
So then I had to decide whether I should go all out and make something truly competition worthy, or make something I would actually wear.  Practically won out (as it always does) (except maybe in shoes) and I figured that it would be awfully hypocritical to make something I wouldn't wear for my signature look!  So I decided to not change my stripes!
My friend (the one with the Vespa, coincidentally) asked what this week's theme was, and when I said signature style, she replied, "Oh, so are you going to make something with navy and white stripes?"  And I said, well I guess I am now!  But I probably would've anyway, because that pretty much sums up my wardrobe.  Love me some stripes!  And if you've been reading this blog for anything longer than 3 seconds, you probably know that I'm a knits girl all the way.  One of my other favorite things is colorblocking, so I added a fun coral pink fabric to the shirt too.  And while I am not big on embellishment or accessorizing, I do love a very tiny bit of detail. Sometimes top stitching is enough for me.  Or a nice beige nail polish.  It's really a testament to Susan's influence that I added this pocket and adore it so much.  It's a bit out of the box, but still small and simple enough that I love it.  Plus in my mind, the presence of a gold pocket means that I don't have to wear jewelry.  (I made that other gold pocket for my daughter after this one actually, which is why I had gold pleather on hand. It's definitely not a staple in my stash, but now I'm thinking it should be!)
The skirt I made just because I've wanted this skirt in my closet for ages and it just never exists when I go to wear it!!  Very frustrating.  So I made it exist.  It's basically the same pattern as the Elephant skirt, but compensating for stretch denim.  I can't pull off a true pencil skirt because clothes that cover my bottom half aren't allowed within a mile of my belly button.  I've been tugging my pants down to my hips since I was a kid, much to my mom's chagrin, and it's not going to change any time soon.  So this has the look of a pencil, but sits where it oughta, and isn't as narrow around the hem either.  Everyday mom life often requires the ability to spring into action at any moment, like batman.  I gotta be able to move in case the world needs saving!  Or the walls need protecting from a disastrous toddler + marker situation!
And that exposed zipper.  Well, it's kinda been my thing ever since I blogged about one three years ago and got tons of flack from people who said it was, quote, "not a thing".  You can't really throw a rock without hitting an exposed zip these days, so I'm thinking it's probably a thing.   And it's definitely my thing.  I love them, and I especially love how it adds just enough visual interest to this skirt.  But what really makes this skirt my signature style is that it goes with everything.  It's crazy flattering, but still comfortable no matter what you ate that day.  And you can easily dress it up or down.  I can't have valuable closet space taken up by conversation pieces, as fun as that would be.  I make my clothes earn their keep!  This one will be on constant rotation until I feel awkward about the hem length at whatever age that happens, or my girls steal it.
So that's it!  My last Project Sewn look!  What a journey, man.  Glad I did it.  Glad it's over.  REALLY glad about the clothes I have to show for it.  I've already worn several of the pieces out in Real Life and they've triumphantly passed the "please don't let my clothes look homemade in a bad way" test.  I've done lots of mixing and matching and integrating with my other clothes, so I might have some style posts for you soon to see how I wore them.  That is, if I can face a camera again.  I've pretty much reached my quota for being in pictures for the next 2 decades.
Almost forgot: Go vote!!!