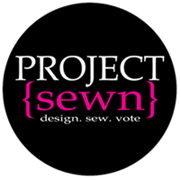 VOTE HERE!!!
You guys!!  Project Sewn has FINALLY begun!  I can't even tell you how excited I am to see what my fellow contestants have been up to.  I feel like we've all been sewing toward the same goal for months now but we had to keep it a secret the whole time!  I'm competing against some pretty awesome ladies, and I definitely have a couple that I'm pulling hard for.  So, let the fun begin!!  First up was the LBD challenge.  Now, as I've mentioned here before, I don't so much do black.  But I do love me some navy!  So I decided to bend the rules a little bit and change the color of the dress.
You can read the details about how I came up with this design over at the Project Sewn site.  But since it's just us friends over here, I thought I'd just show you some more pics from the photoshoot.  My husband was my photographer, so after deleting about half the pictures because they only featured my butt, I got these.
I was lamenting to a friend that I didn't know of any place nearby that was fancy enough for a LND photoshoot, so she recommended doing the opposite.  She pointed out that most magazine spreads feature fashion photography in the most weird and awkward of places, like fur coats being modeled underwater (I'm sure it's been done).  So instead of going somewhere fancy, I just stepped outside my neighborhood and started walking down the street.  Sure, I ran into a couple roaming cows (but thankfully no elephants this time), and got a lot of weird stares by people flying by on motorbikes, but it was totally fun.
Except maybe the one part where I was pretending to hitchhike and this sketchy truck actually pulled over and my husband and I jumped in our car and hightailed it outta there!!
And then, of course, because this is Thailand, it started raining.  But that just meant I had an excuse to use my rainbow umbrella!  Unfortunately I left my neon yellow galoshes at home.  THAT would've been amazing.
So, that's week 1!  I really hope I make it through to week 2 because it's my absolute favorite look!  But, don't worry if you want to vote for someone else, I'll definitely be posting my outfit here anyway – same bat time, same bat channel.
Head over to Project Sewn to vote for your favorite today!  Voting is open until Thursday night, 8 pm MT!